Whether you're a regular at our food learning sessions, or have yet to join us, we hope you will find something fun to cook at home from this page.
Follow and cookalong with our Food Learning Officer Ceri as she shows us how to make some of our favourite recipes from our cooking classes.  Recipes are suitable for all ages. We will be adding more recipes videos and resources soon. All of our recipes are based on plants!
Lemon & Poppy Seed Muffins
Honey & Rosemary Soda Bread
Puff Pastry Tart with Cream Cheese Tomato and Basil, also known as Pizza Tart!
We've made this tart in a couple of our schools and family food learning sessions this year, and since it goes down so well we wanted to share it. There are lots of tasks young children can get involved with, tomatoes are soft so should be easy to slice under supervision – don't forget to use the bridge and claw technique we teach in class. There's also the pastry rolling, cheese grating and egg wash brushing!
The tart will serve 2 hungry adults, or 4 little mouths, or you can use the whole pack of puff pastry and double the quantities to serve double the people.
Ingredients
125g soft cheese such as Ricotta, Philadelphia or supermarket own brand
1 teaspoon Dijon mustard
6 medium-sized ripe tomatoes (different colours if possible), or equivalent cherry tomatoes
185g ready rolled out puff pastry (a full pack is usually 375g)
A handful grated mature cheddar
1 egg, lightly whisked
Fresh basil for topping
Black pepper
Method
Pre-heat the oven to 180˚C (fan).
Weigh out the cream cheese into a small bowl, and mix together with the mustard and a little black pepper. Stir until smooth.
Cut the tomatoes into slices around 6mm thick slices, or split the cherry tomatoes in half.
Unroll the pastry into a rectangle straight onto a baking tray large enough to accommodate it, roll it out a little so it stretches to 20cm x 24cm. With a knife mark a border the thickness of 1-2cm around the edge. Don't cut through the pastry.
Spread the soft cheese on the pastry, but  inside the border, then arrange the tomato slices on top, slightly overlapping them like fallen dominoes.
Scatter a handful of grated cheddar cheese over the top and brush an egg wash all around the exposed pastry edges.
Put the tart in the oven for 20 mins or until the pastry is golden and the tomatoes are cooked.
Scatter over the fresh basil.
Recipe inspired by BBC Food
Nasturtium Pesto
That nasturtium you've got growing in your garden or window box? It's not just a beauty. It's also delicious! Nasturtium leaves make an excellent peppery addition to any salad, eaten fresh, but you can also spin them into a pesto to serve with pasta.
We recently shared this recipe as a video on our Instagram TV, which you can find HERE.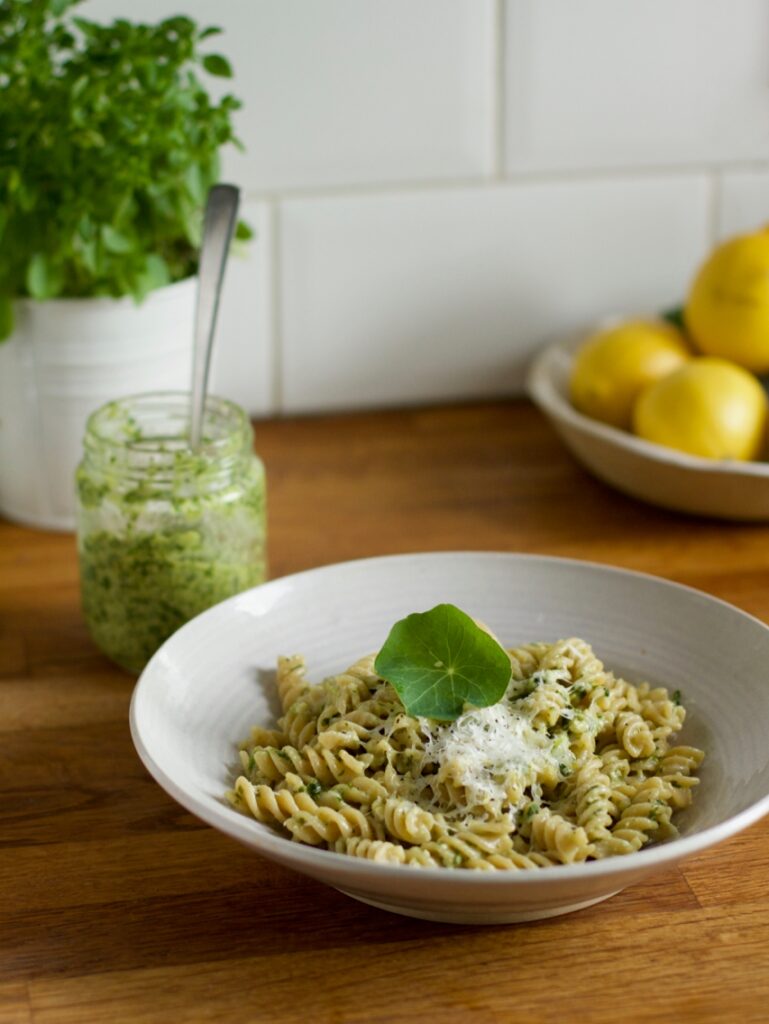 Ingredients
20 grams cashew nuts, toasted
30 grams pine nuts, toasted
1 large handful of nasturtium leaves, stems removed and roughly chopped, approx 40g
10g small handful of parsley
1 clove garlic, minced
Juice and zest of a lemon
4 tablespoons olive oil, + plus more to get the consistency you like
Method
Roughly blitz the warm nuts in your food processor, then add the garlic and blitz briefly to incorporate.
Next add in the leaves, parsley lemon juice, zest and olive oil. Blend again, till a chunky green paste forms (don't make it too smooth), add salt and pepper and taste and adjust seasonings if necessary.
If you want a runnier pesto, add more olive oil and lemon juice in a 2:1 ratio to thin it out.
Recipe by our Food Learning Officer Ceri Jones